D2C digital brands are becoming standard among smaller digital sellers. What exactly is D2C (also known as DTC)? To define it in just four words, we can say that a D2C digital brand is basically the "disintermediation of digital commerce". Or, to make it easier for non-native English speakers like me, let's say it's just the art of doing everything yourself. From conceiving the product or service, to the delivery to customers, everything is integrated into one entity. This means having full control over branding and strengthening your capability to develop an emotional connection with customers as a port of entry.
Now we know what a D2C brand is, let's move on to look at its five pillars, which I see as the five key advantages for any eCommerce business thinking of going for this model.
Customer Experience
CX is extremely important when operating in highly concentrated markets. It allows for the building of a relationship with the customer from the very beginning. Having full control over the entire chain means this type of business can fully customize the shopping experience for a specific target market (always ensuring that there is a significant Total Addressable Market). For this purpose, it is crucial to engage with customers and to adapt to their needs so you will become the most convenient choice. It is also crucial to have a pricing strategy that's in line with both the experience provided and value for money.
Differentiation
The internet is full of small businesses competing with large established brands, so strong differentiation is key. If you carefully study the market to find a unique value proposition relevant to a substantial group of people it's sure to pay off for you. Take Red Bull. I know they're not exactly a D2C brand but it's a good example for us.
There are plenty of energy drinks focused on sports, but when you think of extreme sports, Red Bull is the first energy drink that comes to mind. Red Bull has become part of its community by sponsoring events, professionals, and initiatives which are meaningful for extreme sports fans and they have invested profits into a media platform that connects this growing community.
But you don't have to have Red Bull's vast resources to see that it's all about storytelling: finding a common story that connects you with your community. D2C digital brands have an advantage over traditional brands as they have the same online tools to build strong relationships, but without the same overheads. Besides, these brands have expertise in the best channel for targeting smaller market niches, digital commerce
Growth and Defensibility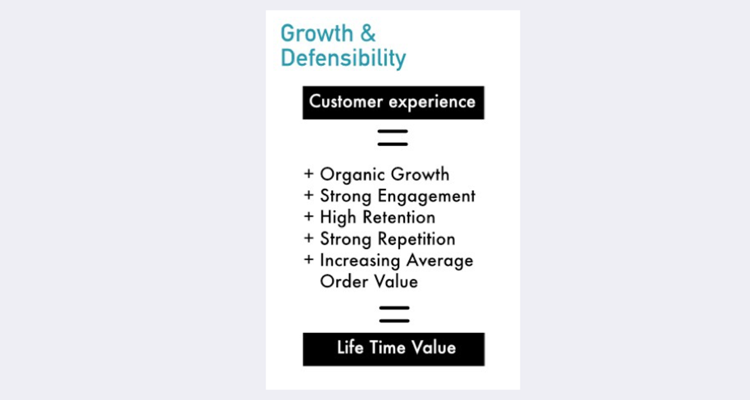 Digital commerce is a fast-paced sector, where digital business can grow fast and shut down even faster. That's why having full control over the entire chain and delivering an outstanding experience is crucial in order to not just grow but also retain customers.
Keep in mind that building a strong sense of community around the brand will not only increase repetition but also turn loyal customers into brand ambassadors. This way the business guarantees sustainable growth with increasing marketing margins and strong lifetime value. In other words, happy customers don't just buy more often but they also speak well of the brand, thus bringing in new customers at a cheaper CPC.
Profitability
Owning the process from end to end translates into maximum flexibility in terms of costs. Obviously, this is not possible for all types of products and services but it does work with the most common things we can obtain from the internet. The biggest advantages of D2C digital brands in terms of costs are:
Maximum control over the inventory as the brand controls production and logistics.
The savings on physical stores and retailers' margins.
Scalability
From a sales perspective, not having to depend on opening new stores or signing deals with retailers makes the business more scalable. Another important factor for the business scalability is its inventory capacity which requires resources, good logistics, and capital; so it crucial to attract investment. Of course, potential scalability varies depending on the type of product or services being sold.
To conclude, I believe these five pillars of a D2C are actually five competitive advantages a small operator could arm themselves with against many big brands out there. Obviously, D2C digital brands are limited in terms of total sales comparing to a big name, but what really matters is that they can compete in the same (online) field and potentially achieve higher customer lifetime value with a much smaller marketing budget. That's because D2Cs build solid relationships with their customers that allow them to grow organically, just like traditional business used to do.